Sign of the Cross

A Sacramental
The Sign of the Cross is a sacramental, not only the greatest of Sacramental but also the most important and frequently used. No ceremony is performed without the sign of the cross.
A Prayer to God
The sign of the Cross, by itself, is a basic prayer in our life, made in the name of Jesus Christ
A Summary of Our Faith
When we form the words of the sign of the cross, we demonstrate and profess our belief in the principal truths of our religion

The Holy Trinity;
The Incarnation; and
The Redemption
The Holy Trinity
We say "In the name" – not "names" – to express our faith in the unity of God.
We mention the three Persons: the Father (the Creator), the Son (the Savior), and the Holy Spirit (the Sanctifier) to profess our belief in the Holy Trinity.
The Incarnation and Redemption
The cross is a profession of our faith in our Blessed Savior's incarnation and redemption (death and resurrection) and shows that we regard Him not only as God but as man.
Whenever we do the sign of the cross, we are reminded of the suffering and the death of Jesus and thereby we are filled with more fervent love, more profound gratitude, and more earnest contrition.
The sign of the cross is the symbol of our deliverance and the emblem of the mercy of God, giving redemption to sinful men and women.
The Power of the Sign of the Cross
Devoutly made, this most holy and most powerful sign:
Gives immense pleasure and glory to God;
Obtains graces;
Drives away the devil;
Banishes temptations;
Serves as a protection against sickness; and
Protects from dangers.
How the Sign Is Made
Among the early Christians, the sign of the cross is made with a small cross by a slight movement of the finger or thumb on the forehead or breast.
In the early centuries of the Church and in the Middle Ages, a triple sign is very commonly employed by marking with a small cross, using the thumb, the forehead, the lips, and the breast.
The ordinary method is the single sign by putting the right hand with the words to the forehead: "In the name of the Father", to the breast: "and of the Son", and to the left and the right shoulder: "and of the Holy Spirit. Amen"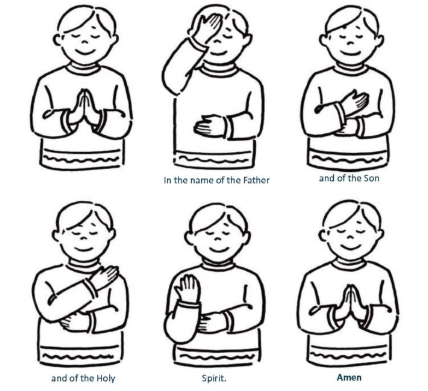 How Should We Make the Sign of the Cross
Make it slowly, reverently, and respectfully.
Understand and feel what we are doing.
Believe in, trust in, and love the Holy Trinity.
Thank God for having died for us.
Ask God to deliver us from all evils.
Apply to our souls the Passion of Jesus Christ.
Offer to God all the Masses with their intention (in union with the Masses being said all over the world)

of renewing the Passion of Jesus Christ; and
of offering to the Eternal Father the infinite merits of the death of His Son.
Indulgence
In 1863, Pope Pius IX gave an indulgence of 50 days.
An indulgence of 100 days if holy water is used.
A partial indulgence is granted to the faithful, who devoutly sign themselves with the sign of the cross, while saying the customary words: In the name of the Father, and of the Son, and of the Holy Spirit. Amen. (Enchiridion of Indulgence #55)